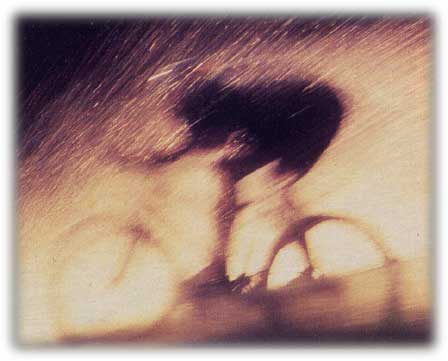 Pantani
Era il giorno di Valentino, and il pirata
rode
off with his demons to his final summit. One of the great pure climbers of our generation, unable to get off the "high of the mountain" and coast with the lowlanders, had plunged into the abyss of a deep depression. Recently Pantani had told his local Rimini newspaper that "You can forget about Pantani the athlete. I still ride my bike, just to turn my legs," he said, "But cycling is the last thing on my mind. I haven't been to the gym for months. I've gained 15 kilos and I have the physique of a little bull". For cycling fans around the world he will not be forgotten. He was a
giant
among a select few in the pantheon of the cycling world. I had seen it coming for sometime now, and on our rides together I had tried to encourage him to enjoy the simple joy of spinning along country roads. I was not able to convince him of this during our recent outings. And now, also for me ends the spinning joy. I have been retired:
Pantani's bicycle to museum
One of the bicycles belonging to Marco Pantani will be exhibited in the Museo dei Campionissini in Novi Ligure, Italy. The bicycle will be delivered by Felice Gimondi and Francesco Moser on March 20, the day of Milan-San Remo.
<< Nebia | Fishy Rider >>