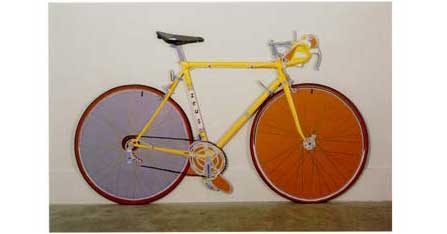 Upright
It never fails. As soon as November rolls around I start to re-live the time I had to pose for over five hours a day for a couple of weeks. It wasn't something that I would have readily volunteered to do, no matter how much begging is involved. I remember as if was just last month the sweet warm weather that we were enjoying throughout Ontario that summer. I had tried very hard to resist the "posing" gig. I kept trying for weeks to entice him to head off for the winding roads of the Canadian Shield and ride along the many shimmering wind swept lakes. I even enlisted the help of the others in the local velo club, hoping that someone could get him to leave the brushes alone until later in the fall. But he would have none of it. I was constantly cajoled and reminded daily that sometimes one is expected to make a small sacrifice. Especially in the cause of art. And so finally I relented and spent August all spruced up and upright on my rack. And every year since I am thankful that I did make that small sacrifice. In fact I wouldn't trade that month for a year of the open road. For during that sitting we got to know each other in a way that couldn't have happened on the road. We each saw a side of the other that we would have never seen had we been spinning along country roads. Like the sufi said, sometimes it's in not moving that one goes the furthest. Oh and I also got some new pedals.
Biographical Notes – Greg Curnoe:Artist, musician, writer, collector, political activist, and cyclist, Greg Curnoe was born in London, Ontario, in 1936. He was a founder of the Nihilist Spasm Band, the Forest City Gallery and the magazine Region. He practised his art in London, Ontario, somewhat removed from greater Toronto. He did so by choice, by conviction, and with a stubbornness motivated by a desire to establish artistic practice outside great city-centres, traditionally viewed as the meltingpots of all forms of artistic creation. Curnoe, accompanied by several other artists, proved that artistic practice outside such centres was both legitimate and viable. For Curnoe, this was an essential condition for the emergence of regional cultures, whose distinct contributions suggested the development of a national culture rooted in all the nation's communities. Greg Curnoe died tragically, hit by a car while cycling with friends in November 1992. November 17, 1992
CURNOE
, Gregory Richard, 55, London Ontario.
>>>
<< A Dali Dream | B i c i t u d i n e >>