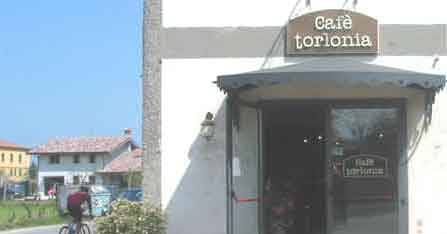 Un giro per le colline di Rimini
The pedal pushers had been talking about going on a little bike tour of the hills around Rimini for quite some time. When they finally decided to take a tour laid out by one of the local cyclists, which they had found the year before on the web, the route and map had vanished. One day it was on the web, then suddenly it was not to be found. Or so they thought. Luckily, in addition to a bike mechanic, we had amoung us a net archeologist who was able to unearth an old cached itinerary. With this information in hand we set off on our ride. We all enjoyed a lovely day of spinning :

percorso 1:

Gatteo a Mare – Verucchio – Gatteo a Mare 58 KM.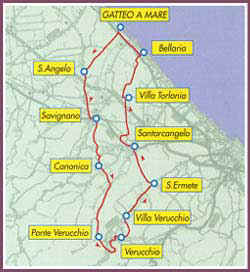 0 KM

GATTEO

MARE




- Incrocio di Viale delle Nazioni con l'Adriatica: direzione Bellaria. Dopo neanche 100 m, a dx. Dopo la sottovia della SS Adriatica, prima a dx, poi a sin. per Gatteo.

5.5 KM S.

ANGELO




- Si incocia la SP 33 a sin. per Savignano.

10.5 KM

SAVIGNANO




- Al semaforo attraversare la Via Emilia; dopo 100 m, al successivo semaforo, girare a sin. e proseguire nell'abitato per circa 1 Km, indi girare a dx per Canonica.

16.0 KM

CANONICA




- Seguire le indicazioni per Poggio Berni e Verrucchio. All'incrocio con la provinciale Santarcangelo- Ponte Uso (Km 17,5) attraversare e proseguire per circa 2 Km. Al successivo incrocio girare a dx per Ponte Verucchio.

26.0 KM

PONTE

VERUCCHIO




- Passato il ponte sul Parecchia, a dx. Dopo 1 Km si incrocia la SS 258 (Marecchiese). Attraversare perpendicolarmente: si incomincia subito a salire.

30.0 KM

VERUCCHIO




- Dopo la piazza si scende su Villa Verucchio dove ci si immette nella Marecchiese (Km 34).

39.5 KM S.

ERMETE




- Si lascia la "Marecchiese": girare a sin. per Santarcangelo.

43.5 KM

SANTARCANGELO




- Di fronte all'arco girare a dx e portarsi sulla Via Emilia. Prendere a sin. e proseguire fino ad incontrare (45,5) l'incrocio per Bellaria (ind. S. Mauro): a dx.

50.0 KM

VILLA

TORLONIA




- Girare a sin. e dopo 100 m a dx per Bellaria.

55.0

BELLARIA




- All'incrocio con l'Adriatica prendere a sin.

58.0

GATTEO

A

MARE




DIFFICOLTA

': I 3 Km di salita che portano a Verrucchio.

RAPPORTI

CONSIGLIATI

: 39×21.

»

Some good advice. Plan on making a quick stop for some light refreshments at the Caffè Torlonia, which you will come upon on your return, near the end of your ride. It is located nearby the Villa Torlonia. The lovely women behind the counter are fellow cyclists, who can provide information on other more challenging rides. I know they have done the "Nove Colli – Fausto Coppi & Marco Pantani" ride! Be sure to tell them that Mr. Click-Click sent you!

UPDATE: new course map courtesy of

<< Fishy Rider | Tires to the Sky >>