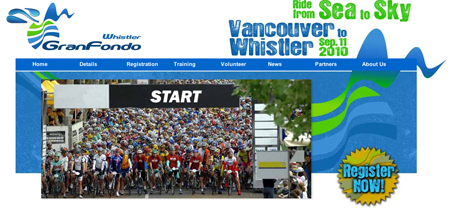 "Gran Fondo"
I have done this ride on two occasions, both times I took the train up to Whistler and then rode my bike back to Vancouver. The classic Whistler to Vancouver ride.
Doing the ride in the opposite direction will be interesting.
"One of the most scenic highways in the world. Or a great excuse to see the Olympic cities of Vancouver and Whistler. Whatever your motivation, the Whistler GranFondo is the ride you've been waiting for.
This will be the first large scale, fully supported ride along the newly upgraded Sea to Sky highway – Hwy 99– from Vancouver to Whistler. With breathtaking views of Howe Sound, challenging climbs through the Coast Mountain Range and more downhill than you'd expect, this ride will impress and inspire like none other.
The Whistler GranFondo provides a dedicated lane for the entire route giving you the comfort to travel this spectacular course in a style not available at any other time. You will travel from Vancouver to Whistler, or as we like to say, from Sea to Sky!"
Source – Whistler Gran Fondo
<< Heavy Metal | Vintage Classic >>