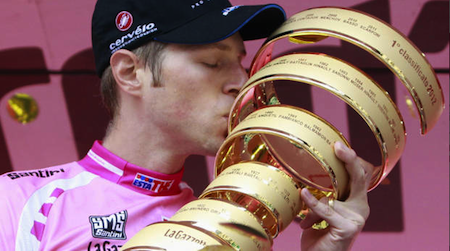 "Ryder Hesjedal in Maglia Rosa"
Two Thumbs up!
Canadian cyclist Ryder Hesjedal has made history and won the Giro d'Italia. He made up the 31 seconds he trailed going into the final stage. He screamed through the streets of Milan to win the three-week race by 16 seconds.
It is being hailed as the most impressive individual accomplishment by a professional Canadian athlete. Ever. Hesjedal becomes the first Canadian man not only to win a Grand Tour, but the first to ever stand on a podium in this event.
It is nothing less than a monumental achievement for a Canadian and Canada. The Victorian's win is the first by a Canadian in any of cycling's three marquee Grand Tours.
Source – The Vancouver Province
Hesjedal, shedding a few tears on the podium, said: "For me this is an incredible experience, the joy is overpowering. I began to believe I could do it as the days went by when I saw that my legs were holding up well in the mountains. Even in my head I was calm and I remained serene. I saw that my rivals were beginning to respect me more and more – and in the end, I did it."
Source – Peloton Magazine
Ryder Hesjedal è stato irriverente e più forte dello Stelvio, del Mortirolo, dell'Alpe di Pampeago, di Cervinia. Alla fine, Milano ha incoronato per la prima volta un canadese (2° americano dopo Andy Hampsten). Il guastafeste nordamericano ha spodestato, al termine della cronometro di oggi, lo spagnolo Joaquin Rodriguez e si è preso con una zampata la maglia rosa. È stato implacabile, nei chilometri che lo separavano dalla piazza del Castello Sforzesco al Duomo, disegnando con precisione chirurgica le traiettorie, tagliando curve e rischiando. Il re del Giro è lui, Hesjedal, ex biker e provetto surfista; non uno scalatore, non ne ha il fisico, ma un uomo forte.
Source – Gazzetta dello Sport
<< Musei di Biciclette | Fiorenzo Magni >>