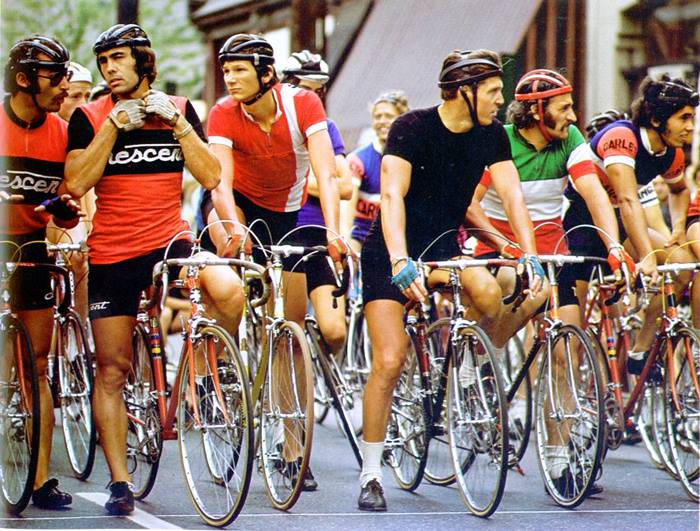 "They rode in the 1970s"
We've had some great photographers shoot our race over the years, but none more famous and internationally acclaimed than the great Fred Herzog. Since arriving in Vancouver in 1953, Herzog has shot more than 100,000 of street scenes and daily life in Vancouver. After working in relative obscurity for 50 years, he's now rightfully recognized as one of Vancouver's most important photographers. This 1973 shot is the only colour photo we've ever found of the first Gastown Grand Prix, which was then part of the Vancouver Sea Festival. Second from left on the start line is Bill Wild, who will out sprint Max Grace for the win. The shot is one of 50 Herzog photos in the 1976 book, The City of Vancouver, published by J.J. Douglas and edited and designed by Dave Broadfoot. Our thanks to Peter Ross for the contribution.
Gus Paterson writes: I took a picture almost identical to this … Bill Dove, Bill Wild, ?, George Demoulin, Bruno Tonietto, Mark Ackerstream. There are more riders in my photo.